Richard Connew

NFD Technical Director - MCSE, PSS, PSE,
Roles in "Platform 2c" - Director - Producer - Story line (series 1,2,3) - Cameraman - 3D - Sound
After a 13 year career in the British Army specialising in communications, IT and GPS systems, Richard joined RR Donnelly & Sons in 1990 where he was involved in business development/sales work with companies such as Motorola, Sun, Avery and IBM. 2000, he moved to Energis Squared, the technology innovation centre for the Energis Group to head up their application software provision programme. He was responsible for refocusing the emphasis of the 7 million pound programme/project to the development of wireless/mobile phone applications and streaming video for the blue chip market. His interest and belief in video across the internet and to mobile phones in particular led him to leave IT in 2004 and setup "NFD Productions" which runs alongside the very successful Film and TV actor training organisation "NFD" (Northern Film and Drama). Richard has been involved in everything from complex multi format/media training videos/websites for the likes of Citizens Advice and Yorkshire Forward through to various blue chip corporate exhibition videos. He has made quite a few of his own films which he also wrote such as Missing, Blitz, The Bus, Proposal and the very successful "Lots of Love Harry" a top 3 finalist in the International Babelgum film festival. Late 2010 he started work on a pet project from his mobile application/video days to create the quirky eclectic online soap that is today "Platform 2c"
Alyson Connew

NFD Creative Director - LAMG, LGR, SRN,

Roles in "Platform 2c" - Director (All children's scenes and some other scenes)

Originally trained as a nurse, Alyson Connew was lured into the exciting world of performing arts in 1984. After many years experience of having worked as the Head of Drama at a school of performing arts she started her own school (NFD). She initially starting directing young people in stage productions as early as 1984 and has gone on to direct various stage productions from the Edinburgh Fringe to a sell out production of Annie at the carriage works in Leeds October 2007. She directed her first film "Victim" in 1995. Alyson has trained young students up to an extremely high level getting them parts on such well-known television programmes as Heartbeat, Emmerdale, Darling Buds of May, A Touch of Frost, Fat Friends and Coronation Street. Alyson has also had a number adult students appearing in television programmes such as Emmerdale, Faking it, Pop Stars the Rivals, King Girl, Heart Beat, Touch of Frost, Coronation Street, The Royal, At Home with the Braithwaite's. Films include The Darkest Light, Charlie Chaplin, Victim, Past Memoirs, Tempted to be Accepted and Mrs Radcliffe's Revolution. Unlike many others Alyson specialises in training people for Film and TV. Often Alyson would go on set with young students and thus learned a great deal about how film sets work along the way. On many occasions Alyson helped out by performing various on set jobs, unit manager, assistant director, assisting various directors on a number of sets with child direction. Alyson due to her extensive experience of working with children and young actors is always able to get that really special performance of a life time that so many other directors fail to when working with young people. Even adult actors really excel. Alyson's early film making expanded over the years to the point that a number of her short films have been bought and broadcast by ITV, Meridian and Channel 4 amongst others.

Kat Wood

Roles in "Platform 2c" - Story line Adviser (series 1) - Actress

Kat grew up in Yarm, a quiet town in the North East of England. She studied drama and theatre at college before deciding to study volcanoes instead, completing a geography degree at the University of Sheffield. Kat went on to work for the BBC in various capacities - teaching short film for CBBC and producing radio at 5Live, and left to pursue a career in film. Kat's first short film, Mr Bojagi starring Brian Blessed, was released in 2010. It has won several awards, including Best Short Film - London Independent Film Festival and Best Achievement in Film - British Independent Film Festival, and also screened at Comic Con last year. Mr. Bojagi is available to buy on iTunes, for details please visit http://www.mrbojagi.com. Kat has also written two short films for NFD, (Penelope and Becoming Eight) which are at various stages of production. Kat is currently working on two features.

Jonathan Hancox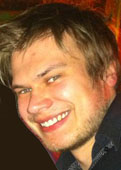 Roles in "Platform 2c" - Sound - Assistant Director - Camera2

Jonathan was born in York and grew up in the village of Brayton. He studied Film and Television production at South Seas Film and Television school in Auckland, New Zealand. He assistant directed and appeared in the short film 'Free Kick' which appeared in the Short Film Corner at the 2010 Cannes Film Festival. http://vimeo.com/10337185 In 2011 he gained a place on Endemol's developing digital talent course where he developed content for English Heritage. Jonathan has also worked on two short films for NFD, (Penelope and Becoming Eight).

Andrew Murchie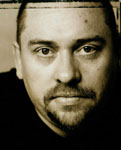 Roles in "Platform 2c" - Graphics, 3D & Motion
Andrew is an award winning short-filmmaker and motion graphics professional based in Edinburgh, Scotland. Andrew works on a diverse range of digital, video and motion graphics projects in Edinburgh & London based marketing agency Multiply, where he is a company director. His stereoscopic work has been screened on UK TV and in 3D events and film festivals worldwide receiving many accolades most notably his first 3d animated short film "FourPlay 3D" winning an InvaZion 2010 Award for Excellence in Visual Arts. The judging panel for this event included stereoscopic animation experts from Disney, Dreamworks and Pixar Animation Studios. 2010 also saw "FourPlay 3D" win a top ten place in Sony's 3D World Competition. 2011 saw the completion of his first live action 3d short film, "Cycle 3D" an original supernatural drama.
Andrew offers stereoscopic 3d training and blogs regularly on S3D related topics on his Enhanced Dimensions blog (www.enhanced-dimensions.com
). He also administers The Stereoscopic 3D Video Channel a channel dedicated to showing the best stereoscopic videos on YouTube, Vimeo & Daily Motion. The Stereoscopic 3D Channel has delivered
3 Million+
views for Andrew's videos to date (January 2012).